Online HR Software
Imagine HR, Without the Administration
Automate routine tasks and drive efficiencies across your organization with best-in-class HR software solutions. Speak to a representative today, call 855-565-3291.
One Unified System for
Everything

HR
Paycor has conducted hundreds of user groups and interviews with HR leaders, scoured third-party research and analyzed our own data. Here's what we found: HR teams spend nearly 70% of their time on inefficient (sometimes paper-based) administrative tasks. To get out of the weeds, you need to stop spending your time on transactional human resource functions that should be automated and utilize a comprehensive HR solution.
Paycor's online HR software helps leaders get work done by automating common workflows, removing the need for rekeying data with our unified database and allowing you to go paperless with our document and form solutions.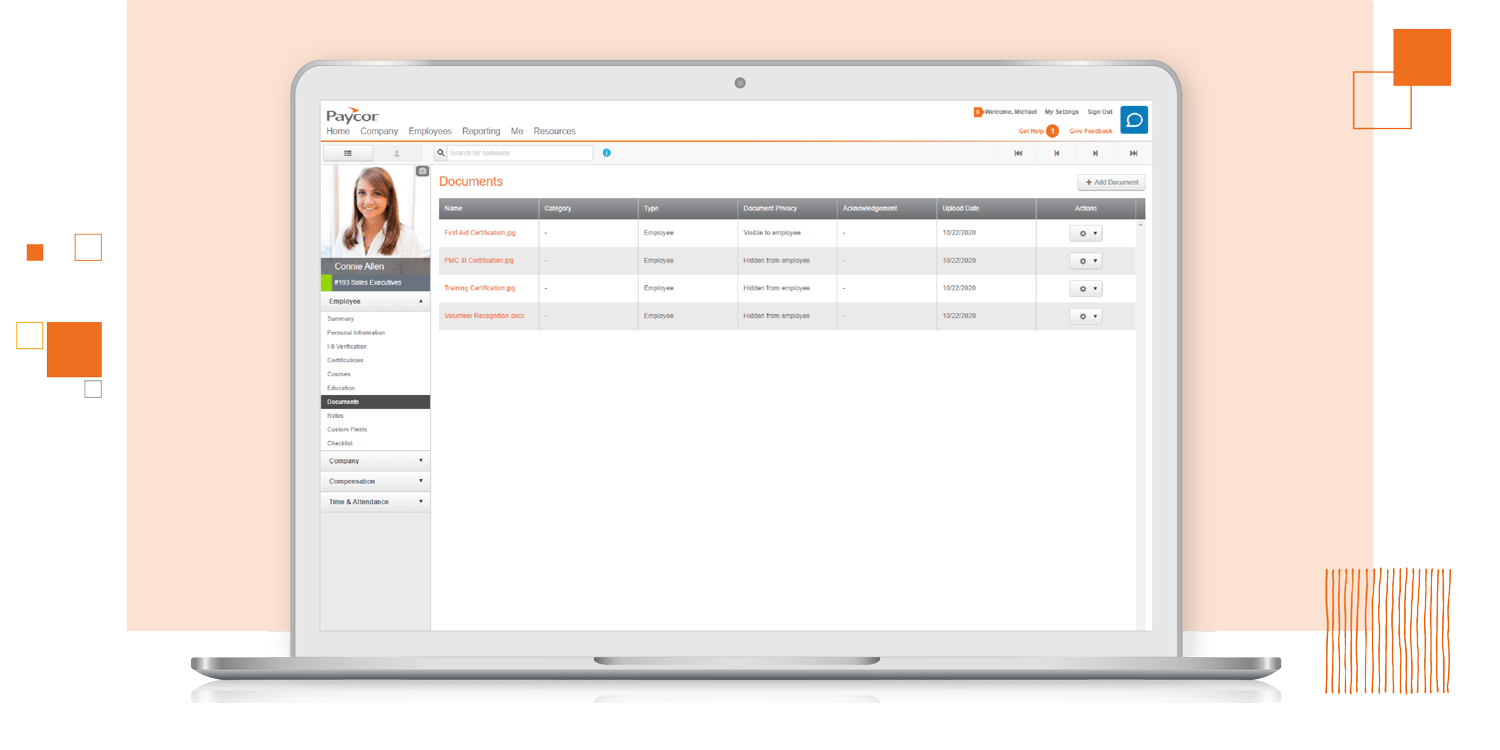 Single Source of Truth
Never use multiple human resources systems to store and manage your data. Paycor's HR platform allows you to review, sign and store employee information in one central location.
The Power of Self-Service
Spend less time manually entering data into your HR platform. With the right technology, you can empower employees to update personal details and information on a mobile device using Paycor's Mobile app.
Get Time Back
Simplify the way you manage everyday HR requests, tasks and updates with automated workflows, reminders and notifications features.
HR Solution Trusted By Users & 3rd Party Evaluators
Master Your To-Do List
HR software impacts every aspect of your business. If those solutions aren't modern and adaptable, or get in your way more than they help, your whole business feels the impact. Paycor's online HR software tool drives efficiencies throughout your organization, top to bottom.
From engaging employee self-service to unlimited workflows, Paycor's HR software program removes the burden of processing routine tasks by hand. Your everyday processes become simplified —and that changes everything. With Paycor, HR leaders get more time back in their day to focus on bigger priorities like employee engagement, performance management and talent development.
Employee Recordkeeping —
Access, edit or update all employee information in one place, including timecards, pay rates, contact information and more.
System Automation —
We offer one HR tool for all employee communications and HR management tasks. Streamline tasks with automated workflows, reminders, notifications and more.
Go Paperless —
Streamline document management by creating, assigning, sharing and storing digital documents and forms in one place.
Engaging Self-Service —
With our web/mobile HR app, employees can access and sign important documents, complete tasks, update profiles and more.
Improve Workforce Management
With the right tools and expertise, there's nothing you can't accomplish. See how Paycor helps tackle your HR challenges.
Trusted

Expertise for Your Business

As an HR leader, you feel the pressure to contribute to your company's bottom line. That means providing strategic insights, getting proactive with people management and staying vigilant on compliance. Paycor can help. Our software streamlines and optimizes nearly every aspect of your business, from the way you recruit and onboard to the way you pay and retain employees.

HR leaders also need to demonstrate the value of what they do, and here again, Paycor is your ally. In our surveys, we found that two-thirds of CFOs weren't happy or even aware of how HR contributes to the bottom line. Paycor's software helps HR leaders report on their work and show their value.
Employee Experience —
Reinforce your core values and motivate employees by recognizing them directly from a computer or mobile device.
Optimize Performance Reviews —
Understand your organization at a deeper level with easy-to-consume insights on headcount, turnover, compensation, absenteeism and more.
Enhance Communications —
With company updates, mobile push notifications and chat, you'll keep employees informed and engaged.
Protect Your Business —
Our support center is a one-stop HR shop: Get guidance on compliance and labor law, plus toolkits and manuals, all in one place.
"The single greatest benefit of working with Paycor is the time savings. The solutions are extremely friendly to navigate and I don't spend hours on the phone with support."
– Tiffany K., Organizational Development Manager, Seaway Plastics
---
"Unlike our previous provider, Paycor has helped us automate routine HR tasks so we can focus on other areas of the business."
Randy H. Krauss, Maffei
"Paycor has allowed me to be more efficient and begin to develop the programs I never had time to implement."
Mia J., Smuttynose Brewing
---
What does HR management software include?
To be most effective, a best-in-class human capital management (HCM) platform should include the following components:
Employee recordkeeping
Automated workflows
Paperless document management
Employee self-service
Performance management
Reporting & analytics
How long does it take to get an online HR software solution set up at my company?
The time required to get a system set up depends on several factors: the components you need, the complexity of your business and industry, whether you're starting from scratch or need to transfer existing data to a new system are some considerations. Implementation can take anywhere from 6 weeks to 6 months. However, here are three things a good HR software partner can do to speed things up:
Have a fully connected implementation process with an assigned implementation team so they (and you) don't waste time entering repetitive information.
Handle data transfer or entry and configuration for you.
Provide in-depth training and live support.
What are the key problems solved by having an HR software system in place?
Simplify & Integrate HR Processes – Managing the complex functions of HR requires advanced technology to simplify everyday tasks and consolidate data so it can be used to help with long-term planning. This saves time and money.
Provide Better Talent Management – Better understand metrics like cost per hire, revenue per employee and your absentee rate when you have unified data.
Provide Analytics for Insight – Turn your people data into actionable insights that improve decision making around attracting talent and reducing turnover. Real-time data insights will help you answer important questions, such as "Who is at risk for resigning?".
How does human resources software help my company stay compliant?
Whether it's in the areas of recruiting, hiring, payroll or people management, compliance is a vital element of any company's ongoing success. Without a solid focus on compliance, your business could be at risk of being penalized with fines and lawsuits. From accurate timekeeping and payroll and tax updates to consistent recordkeeping and detailed reports, HR technology should be a top priority to help you confidently manage compliance.
Are there solutions designed for my industry and company size?
Yes, you can find HR software customized to your industry. For example, Paycor specializes in HCM for the healthcare, manufacturing and restaurant industries. We also service organizations with 1 to 1,000 employees. The sophistication and power of our HR platform can be adjusted to meet the needs of your business as it grows. Our product tour is a good place to start to get an idea of which systems are recommended for your size business.
Can our organization switch HR software providers mid-year?
Yes, you can switch mid-year and we can help with any questions related to tax filing or year-end processing. Our implementation experience was created to differentiate and enhance the customer experience, reduce post implementation issues, and add value to the overall partnership.

Resources
Get the expert advice and thought leadership you need to help your clients solve their toughest business challenges.
Article
Read Time: 6 min
Human resource teams need to gain efficiencies in their workday. Read how HR solutions offer technology that is key to success.
Article
Read Time: 5 min
The manufacturing industry is changing rapidly as the automation revolution continues to accelerate. Read on to learn how to leverage automation to add value to your employees.
Article
Read Time: 5 min
Employee burnout can impact work quality and morale. Discover the warning signs for burnout and how to prevent it in your workplace.